# 10
If your little one aspires to be the next big pop sensation or music producer, give them the gift of the VTech Record and Learn KidiStudio. Its keyboard is capable of lighting up to teach your kids to follow along with jazz, techno, and even rock and roll music.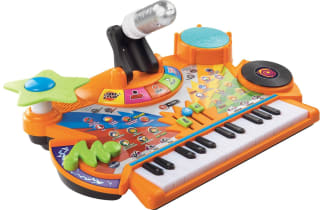 The Playskool Explore N' Grow is a busy ball popper that features upbeat music, bright colors, and comes with five balls. It keeps kids as young as nine months entertained as they load the balls and watch them fly through the air.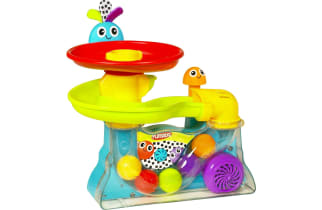 Bring the fun of a theme park to your little one's bedroom with Fisher Price's Loops 'n Swoops Amusement Park. This toy is a two-sided, double-track roller coaster playset that comes complete with a Wheelies mini car that can be sent zooming down the ramp for a 360° loop.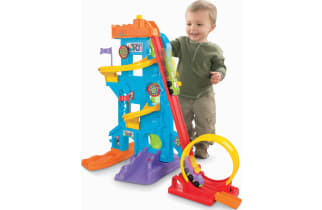 #7
The LeapFrog My Pal comes in violet for girls and green for boys. It is designed to be used with a smartphone or tablet, so you can customize the 15 learning activities with your child's favorite animal, food and color. It can also sing over 40 songs, including lullabies.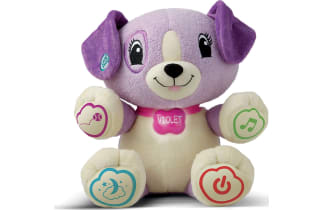 teaches counting words and phrases
prompts kids to interact
volume control to make parents happy
| | |
| --- | --- |
| Brand | LeapFrog |
| Model | 19157 |
| Weight | 1.6 pounds |
# 6
The 12-piece Kids Destiny Engines & Train cars collection is compatible with Thomas, Brio, and Chuggington train tracks or it can simply be played with right on the floor or table. When not in use, all of the carriages store in the handsome wooden display frame.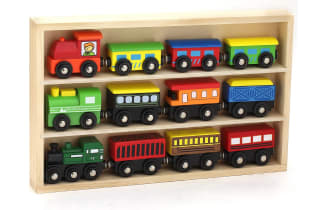 train cars connect via magnets
easy to grab with little hands
stands up to rough play
| | |
| --- | --- |
| Brand | Kids Destiny |
| Model | pending |
| Weight | 2.1 pounds |
#5
Perfect for burning off all that excess energy that toddlers are known for, the Little Tikes Trampoline has a large jumping surface and sturdy handlebar, which gives your child increased stability as he or she exercises. Its low profile also allows for easy portability.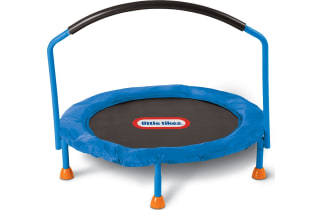 durable and safe elastic webbing
accommodates up to 55 pounds
designed for indoor use only
| | |
| --- | --- |
| Brand | Little Tikes |
| Model | 630354M |
| Weight | 15.2 pounds |
# 4
Provide your kid with hours of stimulating entertainment with the Lego Duplo My First Deluxe box of fun. This set delivers a huge variety of classic and special-style bricks that are designed to both teach your child the rules of counting and to inspire their imagination.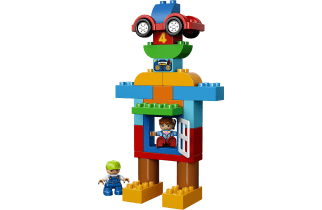 develops fine motor skills
comes in a durable storage container
includes fun animals and figures
| | |
| --- | --- |
| Brand | LEGO |
| Model | 6062469 |
| Weight | 3.2 pounds |
#3
The Playskool Sesame Street Love2Learn Elmo integrates with a smart app for truly customizable play. He has over 350 responses and can even call your child by name once programmed. In addition, he laughs, sings songs, and plays interactive games.
can choose desired learning subject
easy to set up and configure
very plush and huggable
| | |
| --- | --- |
| Brand | Sesame Street |
| Model | B6572AF1 |
| Weight | 1.6 pounds |
# 2
The Melissa & Doug Dump Truck is a shape sorting toy that comes with nine colored blocks and two figurines. After all of the blocks have been inserted into the correct holes, the rear of the dump truck can be lifted up to dump them back out again.
very sturdy construction
teaches shape and color recognition
rolls around smoothly
| | |
| --- | --- |
| Brand | Melissa & Doug |
| Model | 9397 |
| Weight | 2.1 pounds |
# 1
Designed to promote enhanced body and spatial awareness in your toddler, the Pewi Ybike is both a walking and ride-on toy. Its smooth, multidirectional caster wheels give your child freedom of movement, while also helping to develop motor and balancing skills.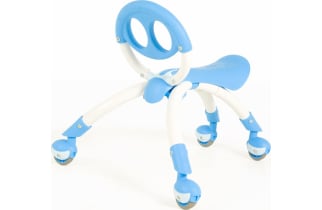 helps to develop trunk muscles
available in 5 different colors
good for kids as young as 9 months
| | |
| --- | --- |
| Brand | PEWI |
| Model | YPI |
| Weight | 5.5 pounds |